Success Story: Two TC students forge forward this fall
December 19, 2018
NMC seeks to help each student achieve their personal definition of success. As the fall 2018 semester concludes, enjoy a tale of two very diverse students, each succeeding in her own way.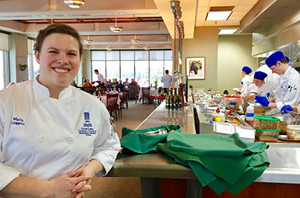 This semester, on the heels of an internship in Seattle and a study-abroad trip to Italy, Maria Leggett, 27, completed the requirements for her culinary degree and co-founded a student group, all while working in two Traverse City restaurants.
She's come a long way since she first enrolled, after graduating from Traverse City West High School in 2010. Then she studied business, but found it wasn't for her. Leggett left and tried a range of jobs — factory work, banking, and the food industry. After three years she decided to give college a second try, re-enrolling in fall 2016. Her passion for food led her to the Great Lakes Culinary Institute.
She's most proud of the student group, Spoonful of Foodies, which works to spread Traverse City's "super foodie town" culture to the college, working with the food pantry to offer cooking demonstrations.
"Simple recipes that college students who have limited equipment can prepare," Leggett said. "Some students just don't know how to cook."
While she clearly does, Leggett says she loves learning and plans to go on a second study abroad trip to Italy in the spring, while continuing to work at Trattoria Stella and The Good Bowl. Eventually she'd like to combine ethnic cuisines and work in a fusion-style kitchen.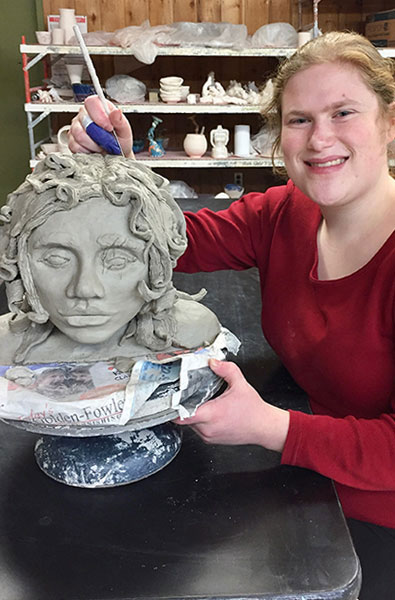 Hannah Krohn, 20, is also a Traverse City native, graduating from Grand Traverse Academy in 2017. She maintains a 4.0 grade point average, serves on NMC Student Government, is a member of Phi Theta Kappa, the international community college honor society, and three other college groups, all while managing severe dyslexia.
This semester, her class in Western Civilization helped Krohn to enhance and refine a language of symbols and color coding that she uses to compensate for poor reading fluency of traditional, written text. Her textbooks are audio and tests are read aloud, but her original language is key to effective studying.
"It's the semester when I'm feeling the impact," of the effort she's put forth since enrolling in fall 2017, Krohn said. The Writing and Reading Center helped her create a resume that earned her a summer job as a behavioral technician, working with autistic children.
Her 4.0 GPA notwithstanding, her proudest achievement is the independent study in ceramics that she was approved for this semester. Post-graduation in 2020, she'd like to use her sculpting skills working as an installer for three-dimensional pieces in aquariums and museums.
In the meantime, she loves NMC.
"I really like the environment. There's a small community and they're very accepting here," Krohn said.
Want more stories like this?
NMC students past and present are achieving success in the classroom and in their careers. This section showcases just a few examples.
Sign up for NMC Now to get these stories, plus upcoming campus events and media mentions, delivered to your inbox every other Wednesday. View past issues here »
Sign up now!
Tweet