Success Story: College's compassion shines during pandemic
May 20, 2020
It's often said that college opens doors for students. During the COVID-19 pandemic, two NMC students have had actual doors opened for them, as faculty and staff have shared their homes to students stranded by circumstance.
NMC instructor Lisa Blackford (right) and international student Sarah Frankham's story began in mid-March, when Frankham (far right), from Bath, England, got sick just as Michigan began locking down. It wasn't COVID-19, but a pretty bad flu. At the time, she was living with a local family with children. Wanting to limit the exposure to others, Blackford invited Frankham, a student in her social work class, to move into her home.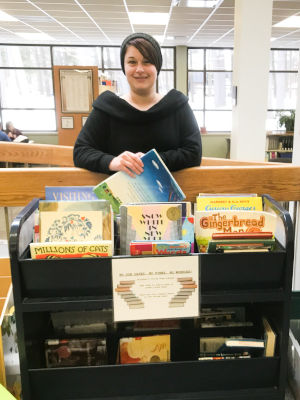 Meanwhile, Library Services Director Kerrey Woughter invited student Liz Biehl (left) and her two children, ages 6 and 7, into her Traverse City home in March. Biehl had been living in Cadillac, working in Lake City and attending classes at NMC. Woughter got to know her as adviser to a student parent group Biehl started, and wanted to help her establish a better arrangement.
As the lockdowns continued, so did the living arrangements. Now it looks like Christmas before Frankham, who's studying social work, can get home to England. In the meantime, the housemates by happenstance couldn't be happier at how it's worked out.
"She's made this quarantine livable for me," Blackford said.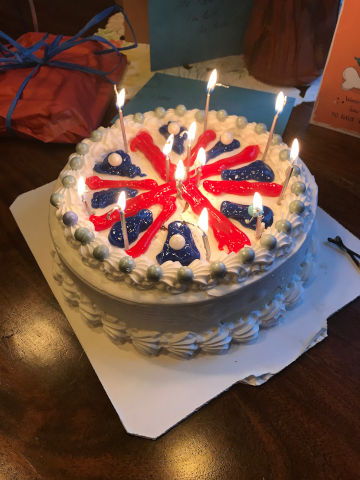 When Frankham celebrated her 37th birthday April 8, Blackford procured her requested ice cream cake, and even decorated it like the Union Jack flag. She's also introduced Frankham to up north customs like grilling out and morel hunting. Frankham, meanwhile, cooked shepherd's pie for Blackford and her husband, provided tech tips to Blackford as both finished the semester online, and has endeared herself to the couple's three dogs.
"It's really turned my time in the States around," said Frankham, who found the adjustment to life abroad difficult when she first moved last fall. Beyond Blackford's hosting, NMC loaned Frankham a laptop when hers broke. The NMC Health Services office helped her renew prescriptions when the pandemic forced her to extend her stay.
"NMC was brilliant with it all," Frankham said.
Blackford said having a student around to discuss class material helped ease the sudden transition to remote learning for her.
"I felt like I was back in the classroom a couple times, so that made me excited," she said.
At the Woughter home, Biehl and her daughters all stayed for about a month before Biehl found her own home in Traverse City as well as a new job at a Traverse City assisted living facility. Because Biehl works overnight shifts, her daughters stay at Woughter's four nights a week, an arrangement they expects to continue through the summer due to the lack of daycare options in the area. Woughter agreed the situation has presented a silver lining to the pandemic.
"We fell in love with the girls," said Woughter. And Biehl has already been asked to apply for management at her new job.
"There's some really good momentum in her life," said Woughter.
There's one final bit of sparkle to the silver linings: Both Biehl and Frankham finished the spring semester on the dean's list.
Want more stories like this?
NMC students past and present are achieving success in the classroom and in their careers. This section showcases just a few examples.
Sign up for NMC Now to get these stories, plus upcoming campus events and media mentions, delivered to your inbox every other Wednesday. View past issues here »
Sign up now!
Tweet