Success Story: Skilled trades to transfer, grads showcase NMC's breadth
April 27, 2022
Commencement 2022 means a quadruple celebration for the Myers-Rockwood family, whose four NMC graduates also illustrate the breadth of learning opportunities at the college.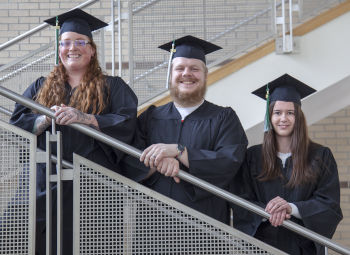 Bridget Bernhard, David Myers and Olivia RockwoodOn May 7, the blended Traverse City clan will celebrate the graduations of brothers David and Jack Myers, stepsister Olivia Rockwood, and David Myers' fiancee, Bridget Bernhard. All four arrived at NMC via different routes, studied vastly different subjects and have distinctly different future plans. Yet the college was able to serve them all. 
"I really enjoyed it with the vast amount of curriculum I could take," said Olivia Rockwood, 21, who enrolled in everything from anthropology to life drawing. She enrolled at NMC in the fall of 2020 to "reassess" after a year at Michigan Technological University, which wasn't a good fit. Armed with her associate degree, this fall Rockwood will transfer to the Center for Creative Studies in Detroit, pursuing a bachelor's degree in product design.
Stepbrother David Myers, 26, started at NMC in 2013 as a dual-enrolled high school student. Now finishing "my 10-year, two-year degree," he said being able to attend at his own pace was important to his persistence. 
"I've had a lot of great classes. (But) I don't think I've ever had a full-time semester," said Myers. His next big step is marrying Bernhard in July.
Bernhard, 28, is earning two associate degrees, one of which is in electrical renewable energy. She chose the field after taking time following her 2012 Traverse City West High School graduation to travel in the developing world. At NMC, Bernhard especially appreciated the female instructors she had in the typical male world of skilled trades. She completed an apprenticeship and is considering either pursuing a journeyman electrician's license or transferring for a four-year degree after her wedding to David Myers.
Youngest sibling Jack Myers, 19, studied computer science and will transfer to a four-year school next year.
Parents Bill Myers and Kris Rockwood have NMC connections, too. Myers is a former NMC trustee and Rockwood, the owner of Press On Juice, has employed NMC culinary graduates.
More than 600 graduates will earn degrees and certificates from NMC in 2022. In-person commencement ceremonies will be held Saturday, May 7 in Milliken Auditorium at the Dennos Museum Center.
Want more stories like this?
NMC students past and present are achieving success in the classroom and in their careers. This section showcases just a few examples.
Sign up for NMC Now to get these stories, plus upcoming campus events and media mentions, delivered to your inbox every other Wednesday. View past issues here.
Sign up now!
Tweet