Success Story: New hub serves businesses and students
May 19, 2021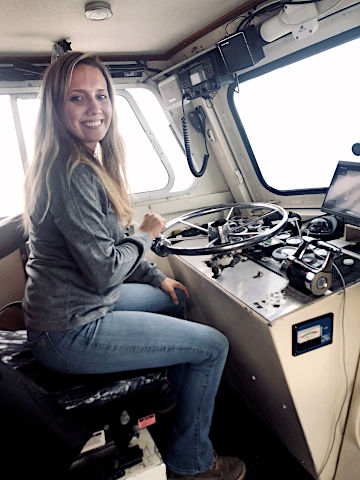 After completing a site engineering internship in the Charleston, S.C. harbor last December, NMC marine technology student Rachel Colby's employer was eager to hire her.
But even at the accelerated pace at which Colby (left) is pursuing her bachelor's degree, she still had a year and a half to go before graduation. Meanwhile, this summer the U.S. Navy veteran from Manistee has another internship lined up, where she'll get hands-on experience with the GIS part of the marine technology program.
As of this year, NMC is aiming to better track and monitor experiential learning like Colby's by establishing the Experiential Learning Institute as the college hub for internships in January.  Experiential Learning Program coordinator Amy Burns Bailey took on the college-wide role in an expansion of her business and technical division responsibilities in order to offer employers a more efficient point of contact.
"Probably at least every other day we receive a request from an employer," Burns Bailey said. 
Despite the pandemic, NMC students completed 102 internships in 2020. Many, like Colby's South Carolina opportunity, were required and offered credit. Significantly, almost all were also paid. NMC President Nick Nissley calls these "l/earning" opportunities and says it's a key differentiator for NMC as other colleges seek to position themselves as embracing experiential learning.
Burns Bailey notes that paid internships are also a matter of equity, since unpaid work would severely limit who could fill the opportunities. Unsurprisingly, students are more motivated and perform better when paid as well.
"I didn't feel like an intern, I felt like I was part of the team," Colby, 26, said of her South Carolina internship with Great Lakes Dredge and Dock, an employer that's hired multiple Marine Tech interns. 
Internships are distinguished by the mentorship that accompanies job duties, Burns Bailey said.
"The student should be doing real life work where they can practice what they're learning in school, (and) there has to be an aspect of mentorship," she said.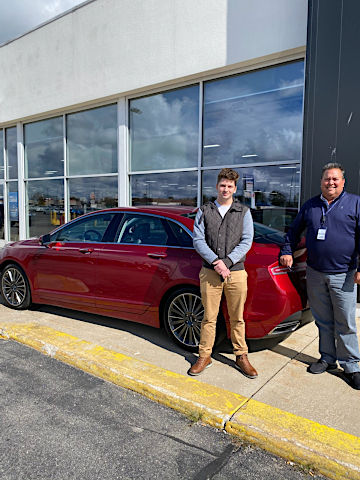 That's what NMC business student Trevor Knapp (right, with mentor Howard Canfield) found at his internship at Fox Motors in Cadillac. At first he questioned why he had to complete the required internship, since he'd already worked in sales plus run his own car detailing business. But his advisor, business instructor Nicole Fewins, had never steered him wrong, Knapp said, and after working with dealership staff with decades of sales experience, plus rotating to the management and service sectors of the business, he saw the value. 
"I gained a lot of knowledge about the sales process," said Knapp, a 2021 graduate. "I thought I knew this, I thought I knew that. You literally have no idea what you're going to learn."
Beyond their program-required internships, both Colby and Knapp praised their overall NMC experience. Knapp had considered a four-year university, but then decided he preferred to work after his high school graduation. His mother urged him not to abandon education entirely and suggested NMC.
"NMC was literally the perfect in between," said Knapp, who commuted from Cadillac. "I really feel like the teachers go above and beyond. They're not just there to teach, they're there to help people."
Visit nmc.edu/internships to find out more.
Want more stories like this?
NMC students past and present are achieving success in the classroom and in their careers. This section showcases just a few examples.
Sign up for NMC Now to get these stories, plus upcoming campus events and media mentions, delivered to your inbox every other Wednesday. View past issues here »
Sign up now!
Tweet