Success Story: First EL Fellows selected
December 18, 2019
This month, as Experiential Learning expands at NMC, the community has an opportunity to take advantage of one of the most enduring EL projects, while five faculty members selected as the college's first class of EL Fellows will substantially convert their courses to the high-impact instructional style's principles in 2020.
EL principles include students working in teams, immersive experiences or project-based assignments, and flipped classrooms, with faculty offering guidance and help more than direct instruction. All of those are embedded in the community opportunity offered by NMC's Visual Communications department, which invites area non-profits to submit graphic design, art direction and new media projects by Jan. 6 for consideration as pro bono class projects during the spring semester.
Instructor Caroline Schaefer-Hills introduced the studio format to the class in 2002.
"It's almost a mini-internship," Schaefer-Hills said. "Our students are having real-world experiences and printed and produced pieces before they transfer."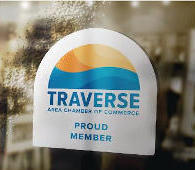 2019 projects included logos for the Traverse City Area Chamber of Commerce (right), Northwest Michigan Arts & Culture Network, and Wagbo Farm & Education Center. Past projects included the design for the local Bay Bucks currency, streetscape and signage for the city of Alden, and newsletters and brochures for TART Trails.
Schaefer-Hills is also one of the first EL fellows selected for 2020. The fellows project is one of the first initiatives of NMC's Experiential Learning Institute, announced earlier this year.
Chosen across disparate disciplines, the instructors have committed to making substantial conversions of their courses to experiential learning principles. They are Brian Sweeney, metallurgy; Tammara Coleman (biology) & Lisa Blackford (social science) working together on a new class called the Science of Stress; John Velis, Computer Information Technology; and Sarah Montgomery-Richards, philosophy.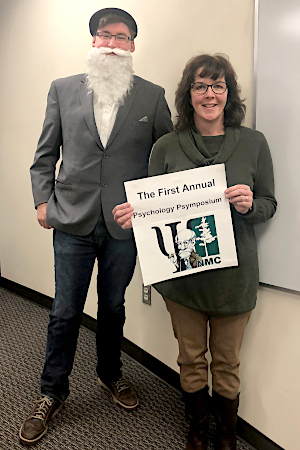 Each applicant met minimum criteria set by the Institute and were then chosen by lottery. Blackford has gradually converted both her social work and psychology classes from traditional lecture format to experiential learning. This semester, she structured her Psychology 100 course to culminate in a "Psymposium" in which teams of students debated theories and questions from different psychological perspectives in a timed competition. One student, Fisher Heck (right, with Lisa), went so far as to dress up as Sigmund Freud.
"I think they learned more in the last two weeks doing this than anything I taught them," said Blackford, who held the Psymposium in a theatre-style classroom.
Vis Comm projects will be completed by the end of the spring semester in April 2019.
A brief description of the project and the organization's needs are required and should be sent via email to cschaefer@nmc.edu by Jan. 6. Contact Schaefer-Hills at (231) 995-1334 for more information.
Experiential Learning has been a college focus since late 2016. The new Timothy J. Nelson Innovation Center, slated for completion in 2020, will be key to implementing EL campus-wide.
Want more stories like this?
NMC students past and present are achieving success in the classroom and in their careers. This section showcases just a few examples.
Sign up for NMC Now to get these stories, plus upcoming campus events and media mentions, delivered to your inbox every other Wednesday. View past issues here »
Sign up now!
Tweet