Success Story: NMC-Traverse House partnership wins award
February 27, 2019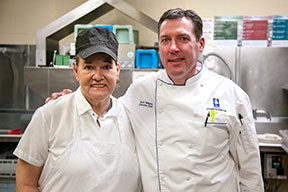 Brenda Clifton and Scott WilliamsDishwasher is not a job that lands on many top-ten career lists, meaning many hospitality employers, including NMC's Hagerty Center, struggle to find them.
But for someone like Brenda Clifton, it can be life-changing.
"It helps me a lot because it gives me responsibility," said Clifton, the Hagerty Center's newest kitchen steward, who was initially hired through a transitional employment partnership with Traverse House, a unit of Northern Lakes Community Mental Health. "People depend on me to be there."
Next month, the Hagerty Center will accept a statewide award for the partnership, which offers a vulnerable population an important hand up to independence and addresses an NMC strategic goal of building collaborative relationships.
"Of our independently employed individuals, probably 70 percent have been placed in a transitional experience," said Traverse House Director Hannah Driver. She nominated the Hagerty Center, led by Executive Chef Scott Williams and Director Chad Schenkelberger, for the award, to be presented by state Rep. Larry Inman.
"They had faith in us and faith in our program, and it's worked out wonderfully," Driver said. "We choose the best employers."
Under the program, two Traverse House members work as Hagerty Center kitchen stewards between 12 to 15 hours per week for six to nine months. Traverse House selects the employees, bypassing the interview process. Selected employees get work experience and an employer reference. After the transition period, ideally the individual goes on to independent employment, and a new Traverse House member takes the kitchen steward job.
Clifton, 63, says it's the best job she's ever had.
"I love it. The people there are really nice," said Clifton, who now works up to 20 hours a week. She can walk to work from her home, and it offers structure to her life.
Transitional employees are usually scheduled for shorter shifts during the day. Traverse House provides backup if the employee misses work. Williams credited the entire Hagerty Center team for helping Clifton adapt to the often hectic work environment.
"It can be an intimidating environment, walking into a kitchen, for anybody," he said, noting that Hagerty meals often seat 200 people.
Since completing the transition period, Clifton can work longer shifts on nights and weekends and doesn't need much supervision, Williams said.
"She's a rock star now. We love having her."
Schenkelberger agreed the center benefits as much as the employee. "This position traditionally has one of the highest turnover rates in the hospitality industry. So this partnership has brought us a sense of security knowing we have additional members of Traverse House looking to fill the position if a spot opens up," he said.
In fact, Williams is hoping to convert another Traverse House transitional employee to permanent status: Justin Reed, 32. For his part, Reed, a former Goodwill Inn resident, says both employment and housing help him get through daily challenges.
"I would be more hesitant to work at that employer, if there wasn't support," he said. "I'm a strong advocate for mental health services."
Want more stories like this?
NMC students past and present are achieving success in the classroom and in their careers. This section showcases just a few examples.
Sign up for NMC Now to get these stories, plus upcoming campus events and media mentions, delivered to your inbox every other Wednesday. View past issues here »
Sign up now!
Tweet