Success Story: Technology brings the world to campus
November 27, 2018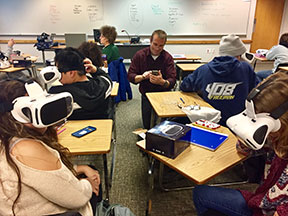 On Tuesday afternoon, Alex Bernier toured the length and breadth of Africa, from Egypt's pyramids to the east-central Serengeti renowned for wildlife to South Africa's Robben Island, where Nelson Mandela spent 18 years in prison. And he did it all within his two-hour World Cultures class, inside NMC's Beckett Building, simply by putting on a virtual reality headset.
"It's fantastic," Bernier said of the technology, marveling at the improvement from elementary school, when his teachers rolled in TVs on carts.
Students download Google Expeditions, a free app, to their phones, and place the phones into the headsets, which offer a three-dimensional perspective — standing on the edge of Zambia's Victoria Falls, for instance, or in the sightlines of a gorilla in Serengeti National Park. Instructor Jim Bensley serves as the guide, choosing where students will explore. This week's whirlwind African tour also showed them the Namibian desert and slave monuments in Senegal.
"We're trying to stay on the cutting edge of content delivery by using technology to enhance the subject matter," Bensley said. "We use it to enhance that learning, to immerse the students into a landscape where those cultures exist."
Students were unanimously enthusiastic.
"It's pretty neat to see the places we're learning about," said Kaylee Annis.
"It gives you more of the experience you would get if you went to that place," said Sam Wilkinson.
At $15 per headset, virtual reality is also a cost-effective way to achieve NMC's strategic goal of ensuring that NMC learners are prepared for success in a global society and economy. Bensley has also used them to "take" World Cultures students to the Islamic world and Latin America. In his Introduction to Humanities class, he's showed students the Baroque art and architecture of Europe.
Debuting this semester, it's too soon to say if the headsets are improving academic performance. But Bensley said student engagement is high.
"It's a great active learning tool. They enjoy looking around themselves," Bensley said. While he guides the tours, students have a 360-degree field of vision and can zoom in to particular things that interest them.
"It gives you the freedom to look around," agreed student Lucy Teubner.
For at least one student, it was also a preview. NMC is offering a study abroad trip to South Africa next spring, which will include World Cultures student Sunny Charpentier. It's one of seven experiences scheduled for 2019.
Want more stories like this?
NMC students past and present are achieving success in the classroom and in their careers. This section showcases just a few examples.
Sign up for NMC Now to get these stories, plus upcoming campus events and media mentions, delivered to your inbox every other Wednesday. View past issues here »
Sign up now!
Tweet