Success Story: Doubling down on veterans' futures
November 6, 2019
With two new endowed veterans scholarships and a ranking as the No. 2 community college in the nation for veteran's services for the second year in a row, NMC is better equipped than ever to serve those who have served us.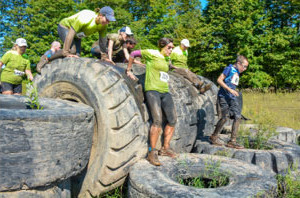 The Staff Sergeant Drew Kostic Veterans' Scholarship was established in memory of the former Marine and NMC student who died in 2016, by the board of 22-2-NONE, which exists to raise awareness and provide support to end veteran suicide. Initial funds were raised through registration in the DK5K Tough Run (photo right) now in its third year. Additional donations increased it to the $25,000 endowed level — the threshold for the scholarship to be awarded in perpetuity.
"Most of our veterans coming back are looking for better jobs. They've got families they've got to take care of at the same time," said board vice president Ray McDaniel. "There's no one answer to solving the suicide epidemic, but if we can take one more burden, one more stressor off their plate, we're achieving our goal."
"It means a great deal," said Kostic's father, Jim Kostic, of the scholarship. "It's a good way to honor his name."
The scholarship is also available to active duty military students, as is the Class of 1953 Veterans Memorial Scholarship, created by George Comden (left, seated) a member of NMC's first graduating class (pictured in 2011). Years ago Comden, an Army veteran himself, established his first scholarship. Reading about current veterans in a college publication inspired him to create the new one.
"I got to thinking, that story kind of triggered my time is on the GI Bill® at CMU," said Comden. "The more I read about it, the more I thought, why not have a scholarship for veterans?"
The Class of 1953 included two other veterans, Ray Cilva (wearing the letter jacket) and Gene Bisson, he added.
"They went the extra mile to take care of us, and it's now time for us to help take care of them."
To donate to either scholarship or to find out more about scholarships, contact the NMC Foundation at (231) 995-1021 or foundation@nmc.edu.
About 200 veterans are currently enrolled at NMC, comprising 5 percent of enrollment.
The Best for Vets 2020 ranking comes from Military Times magazine. The publication cites NMC's "wide array of support services for its student veterans, many of them specially created for vets. This includes academic support, such as tutoring and mentorship, career support, such as resume assistance and job placement, and mental health support." NMC ranked No. 2 in 2018, and No. 3 in 2018.
NMC will start a new, community-wide veterans project in December. Coffee with Veterans will be held from 8 to 9: 30 a.m. Friday, Dec. 13 in Lobdell's Teaching Restaurant on NMC's Great Lakes campus, and monthly thereafter. Any veteran in the community is welcome to stop in for complimentary coffee and conversation.

GI Bill® is a registered trademark of the U.S. Department of Veterans Affairs (VA). More information about education benefits offered by VA is available at the official U.S. government Web site at https://www.benefits.va.gov/gibill.
Want more stories like this?
NMC students past and present are achieving success in the classroom and in their careers. This section showcases just a few examples.
Sign up for NMC Now to get these stories, plus upcoming campus events and media mentions, delivered to your inbox every other Wednesday. View past issues here »
Sign up now!
Tweet