Success Story: Around the world with 60 students
March 2, 2016

From sweet sixteen to top ten, Northwestern Michigan College is pushing its study abroad standing ever higher.
In 2014, NMC ranked sixteenth among community colleges nationwide for student participation in short-term study abroad experiences, according to the Institute for International Education. Using 2015 numbers NMC would rank tenth, placing among colleges whose enrollments are double or triple, said Jim Bensley, director of International Services and Service Learning.
An increased emphasis on study abroad is part of NMC's strategic direction to ensure that learners are prepared for success in a global society and economy. This year, 60 students from a dozen academic disciplines will travel to six different countries on three continents, all in the month of May. Here's a May Madness preview:
Greece
Humanities students are headed to the cradle of Western Civilization for the first time May 9-20. Visual communications student Jennifer VanderVlucht will be along, too, documenting the experience by creating a daily, 60-second video of their travels to Athens and its historic sites, Olympia, Delphi and more.
"It will help me use the skills that I've learned," said VanderVlucht, 30, of Traverse City. "This will be an awesome, challenging experience."
She's also anticipating the day student will spend helping Syrian refugees through a Greek humanitarian agency. She's hoping to capture the refugees' point of view directly.
"We only hear what the media tells us," she said.
Ghana
Social work and psychology students are headed to this first-time destination May 6- 18. Students originally planned to go to Brazil, but began seeking an alternative due to concerns about the Zika virus spreading throughout South and Central America. The destination switch offers students a lesson even before departure: Expect the unexpected.
"The world's an ever-changing place," Bensley said.
Ecuador
A contingent of culinary and business students will visit here May 6-16. (Zika is not a concern on this trip since the mosquitos that spread the virus don't live at the higher altitudes students will visit.) They will spend much of their time in Yunguilla, an eco-tourism cooperative.
Culinary student Nick Berden is excited to learn about feeding a community whose remote location forces it to be self-reliant. There won't be a GFS or Sysco to fall back on.
"Everything's from where it's planted to its cultivation and production," said Berden, 38.
Traveling for the first time outside the U.S. or Canada, he hopes the trip also triggers a desire to see more of the world.
"Everything about the trip interested me," he said.
South Africa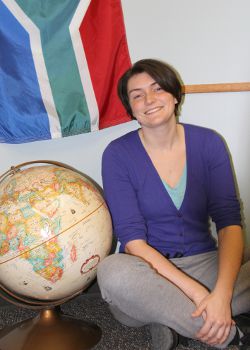 Pre-med student Shelby Christensen will join a group of nursing students visiting South Africa. She aspires to become a pathologist and work for Doctors Without Borders.
"It's important to me to understand the other cultures," she said. "I see this as an opportunity to become a well-rounded person."
Christensen, 21, was awarded a Global Opportunities scholarship and also raised money on the GoFundMe crowd-funding site to cover the cost of her trip, her first out of the United States.
Read more about study abroad opportunities at nmc.edu/study-abroad »
Want more stories like this?
NMC students past and present are achieving success in the classroom and in their careers. This section showcases just a few examples.
Sign up for NMC Now to get these stories, plus upcoming campus events and media mentions, delivered to your inbox every other Wednesday. View past issues here »
Sign up now!
Tweet