Success story: Celebrating centenarian students
March 17, 2021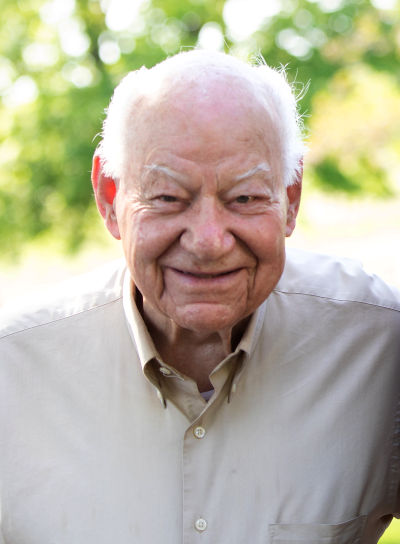 For more than three decades, Traverse City resident Dick Grout (right) has pushed NMC's mission to provide lifelong learning opportunities to its outer limits.
The 100-year-old World War II veteran's Extended Education class records go back to 1988. He's currently enrolled in a class on the history of U.S. presidents. It's one of several Grout has taken from Jack Segal, who at 75 was born the year the war ended, in part thanks to Grout's service.
"I just think it's important to keep challenged mentally," said Grout, a widower who lives at the Cordia senior living residential community in Traverse City. "I don't want to sit here by myself and vegetate. I want to be involved with other people."
Since COVID hit, Extended Education classes have been virtual, but Grout's taken the videoconferencing technology in stride.
"We certainly would rather be in person, (but) there's all kinds of ways to get together," he said.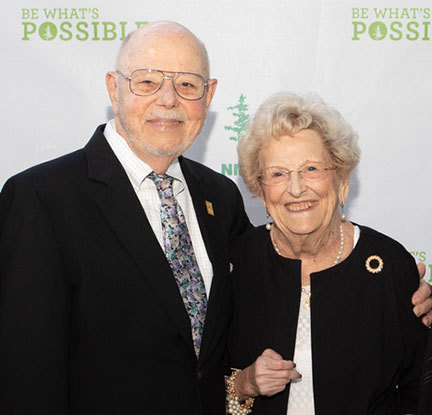 Ken Pickering and Jeane PoosGrout's not the only centenarian student at Extended Education, either. Jeane Poos turns 100 this month. She and her devoted partner Ken Pickering, 95, have a lengthy transcript of EES classes between them. They too have taken Segal's classes, as well as culinary courses, art and music and getting the most from your iPhone. They've been on the instructor side, too, presenting on their travels including a trip to Norway and Russia at Extended Ed's twice-annual Campus Days.
"We had two rooms full of 50 people," Pickering recalls.
Poos in fact has created a planned gift for Extended Education so that others may take advantage of the opportunities it offers to all learners, from age 4 to 100, at least.
---
Visit nmc.edu/ees for information on current classes. Visit nmc.edu/give to find out about planned and other giving opportunities.
---
Listen to an interview Grout did with the International Affairs Forum at NMC, which he formerly chaired, to commemorate the 75th anniversary of World War II.
Want more stories like this?
NMC students past and present are achieving success in the classroom and in their careers. This section showcases just a few examples.
Sign up for NMC Now to get these stories, plus upcoming campus events and media mentions, delivered to your inbox every other Wednesday. View past issues here »
Sign up now!
Tweet