Success Story: Marcus Bennett chosen for DEI position, fulfilling strategic plan objective
January 12, 2022
Longtime college staff member Marcus Bennett, Ed.D., will serve as Special Assistant to the President for Diversity, Equity and Inclusion (DEI) beginning July 1. This is the college's first position dedicated to DEI.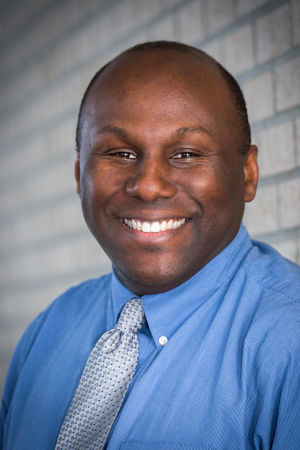 "I am proud to have the opportunity to help our college grow in this area. I've seen first hand some of the challenges our students face and am inspired by the commitment of our NMC community to create positive change," said Bennett, 45, a first-generation college student who has earned a doctorate in community college leadership from Ferris State University and a certificate on Diversity, Equity and Inclusion in the workplace from the University of South Florida.
Currently associate dean of campus and residence life, Bennett's own educational journey was similar to what many new or prospective community college students face.
"A lot of times we talk about access, and not everybody has access to education," said Bennett, who has worked at NMC for more than a decade. "It can be very challenging and very overwhelming."
As he considered the opportunity, the fact that NMC has made DEI a part of its just-completed strategic plan was significant.
"A lot of people put out statements," Bennett said of the increased attention to racial injustice that began in summer 2020, after the murder of George Floyd. "NMC put out plans of action to continue with that work."
Establishment of the new position fulfills a key objective within the DEI strategic area of NMC's strategic plan, NMC Next. Expected to receive final approval from NMC's Board of Trustees later this month, the plan is the product of nearly a year of input from more than 1,000 participants including community members, alumni, faculty, staff, students and donors.
Bennett has been a member of NMC's DEI advisory committee, chartered by President Nick Nissley in summer 2020. That committee issued a DEI benchmarking report in fall 2021. Its research and conclusions helped inform objectives and action steps in the strategic planning process, particularly around areas of student success. Bennett also credited his colleagues in NMC's Student Services and Enrollment Management departments for motivating him to do his best on behalf of students.
"Everybody in some shape, form or fashion has mentored me, made me feel valued and want to be here," he said. "I'm just really excited about being here, the first in this role at NMC. I'm hopeful I can set a trail or path that others can follow."
"Marcus' appointment takes NMC's commitment to diversity and inclusion to the next level," Nissley said. "Our research shows we have work to do in this area to help our students succeed. I believe this is a critical step to help us get there. "
Bennett is on track to complete two other certifications this year, one in Diversity and Inclusion from Cornell University, and another in Ethical and Inclusive Leadership from USF.
DEI duties will comprise half Bennett's job beginning in July. He will continue as associate dean of campus life. In that role, he and his family live on NMC's main campus and he is well-known and respected by students, staff and faculty alike.
Prior to joining NMC in 2011, Bennett was a member of the Office of Residence Life staff at Saginaw Valley State University from 2003-2011.
Want more stories like this?
NMC students past and present are achieving success in the classroom and in their careers. This section showcases just a few examples.
Sign up for NMC Now to get these stories, plus upcoming campus events and media mentions, delivered to your inbox every other Wednesday. View past issues here »
Sign up now!
Tweet